Recognizing that reclaiming looted cultural assets can feel like a Sisyphean task, and that restitution cannot be accomplished without the practical knowledge of how to conduct critical research, the Association for Research into Crimes against Art (ARCA) and the US-based Holocaust Art Restitution Project, [Inc.] (HARP), have teamed up to offer its 3rd annual stand-alone provenance course which tackles the complex issues of cultural plunder.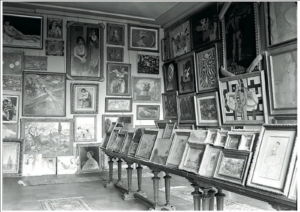 Course Title: "Provenance and the Challenges of Recovering Looted Assets,"
Course Dates: June 19- 25, 2019
Course Location: Amelia, Italy
Open to applicants interested in exploring the ownership history of looted cultural objects, their trafficking and their restitution/repatriation, this 5-day course will provide participants with exposure to research methodologies used to clarify and unlock the past history of objects likely to have been displaced in periods of crisis. It will also examine the complex nuances of post war and post conflict restitution and repatriation, as well as its ethical underpinnings
Taught by Marc Masurovsky, co-founder of HARP, and former director of the Provenance Research Training Program at the Prague-based European Shoah Legacy Institute (ESLI), the course will provide participants with the opportunity to engage in an intensive, guided, dynamic exchange of ideas on research methods while highlighting the multiple diplomatic, political and financial challenges raised by restitution and repatriation claims.
Special emphasis will also be placed on the contextual framework of provenance research in an era increasingly reliant on digital tools.
With an emphasis on an interdisciplinary and comparative approach, this provenance course will benefit anyone with an interest in art, art history, art collecting, the global art market writ large, museum and curatorial studies, art and international law, national and international cultural heritage policies.
As an added bonus participants accepted into the 5 day course will automatically registered be registered to attend ARCA's Amelia Conference, June 21-23, 2019 a weekend-long forum of intellectual and professional exchange which explores the indispensable role of research, detection, crime prevention and criminal justice responses in combating all forms of art crime and the illicit trafficking in cultural property.
For more information on the course, course fees and how to apply, please see this link.