Edvard Munch masterpiece, Madonna was stolen from the Munch Museum in Oslo in August 2004 by masked gunmen during a daring daylight raid.  Police later recovered the painting along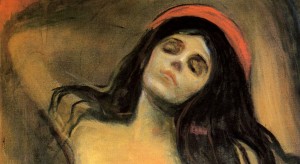 with the more famous The Scream in better-than-expected condition.  
In May 2006 Bjoern Hoen was sentenced to seven years for planning the robbery, Petter Tharaldsen, received eight years for driving the getaway car and Petter Rosenvinge, was sentenced to four years for supplying the vehicle.
Hoen and Tharaldsen were also ordered to pay 750m kroner (£62.3m) compensation to the City of Oslo to reflect the value of its lost paintings.  Three other men were acquitted. All had pleaded not guilty.