2014 Interdisciplinary Art Crime Conference
The Association for Research into Crimes against Art  (ARCA) is finalizing details for its 6th annual interdisciplinary conference on Art Crime in Amelia Italy the weekend of June 27-29, 2014.  Please watch this page for information concerning, speakers, award winners and topics for this annual event.
Click here to read the 2014 Call for Presenters and to contact ARCA's Conference Organizer, Dr. Derek Fincham.
Providing an arena for intellectual and professional exchange, the annual Art Crime conference is integral to ARCA's mission and serves as a forum which aims to facilitate a critical appraisal of the protection of art and heritage worldwide and a forum to highlight the work of important achievers in this field.
This interdisciplinary event brings together those who have an interest in the responsible stewardship of our collective cultural heritage. Past year's presenters  have discussed a variety of topics ranging from  the display  and  sale  of  looted  objects;  strategies  to combat  the  illicit  trade  in  cultural  property; current law enforcement investigations; and the problem of art fraud and forgery.
ARCA's annual  conference  takes  place  in Umbria in the city of Amelia, the seat of ARCA's Postgraduate Certificate Program.   The two-day conference event is held within Amelia's Sala Boccarini inside the cloister which also houses the city's Archaeological Museum.
During each year's event, ARCA presents its annual awards to outstanding individuals for their service to cultural heritage protection and research.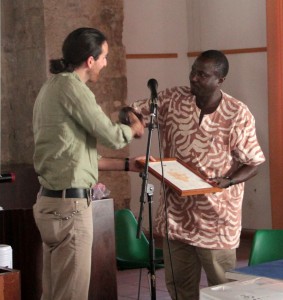 The awards categories are:
Art Policing, Recovery, Protection and Security

Past winners: Vernon Rapley (2009), Francesco Rutelli (2009), Charlie Hill (2010), Dick Drent (2010), Paolo Giorgio Ferri (2011), Lord Colin Renfrew (2011), Stuttgart Detective Ernst Schöller (2012), Karl von Habsburg and Dr. Joris Kila (Jointly – 2012), Sharon Cohen Levin (2013), Christos Tsirogiannis (2013)

Eleanor and Anthony Vallombroso Award for Excellence in Art Crime Scholarship
Past winners:  Norman Palmer (2009), Larry Rothfield (2010), Neil Brodie (2011), Jason Felch and Ralph Frammolino (Jointly – 2012), Duncan Chappell (2013)

Lifetime Achievement in Defense of Art Award
Past winners: Carabinieri TPC collectively (2009), Howard Spiegler (2010), John Merryman (2011), Dr. George H. O. Abungu (2012), Blanca Niño Norton (2013)