2016 Interdisciplinary Art Crime Conference in Italy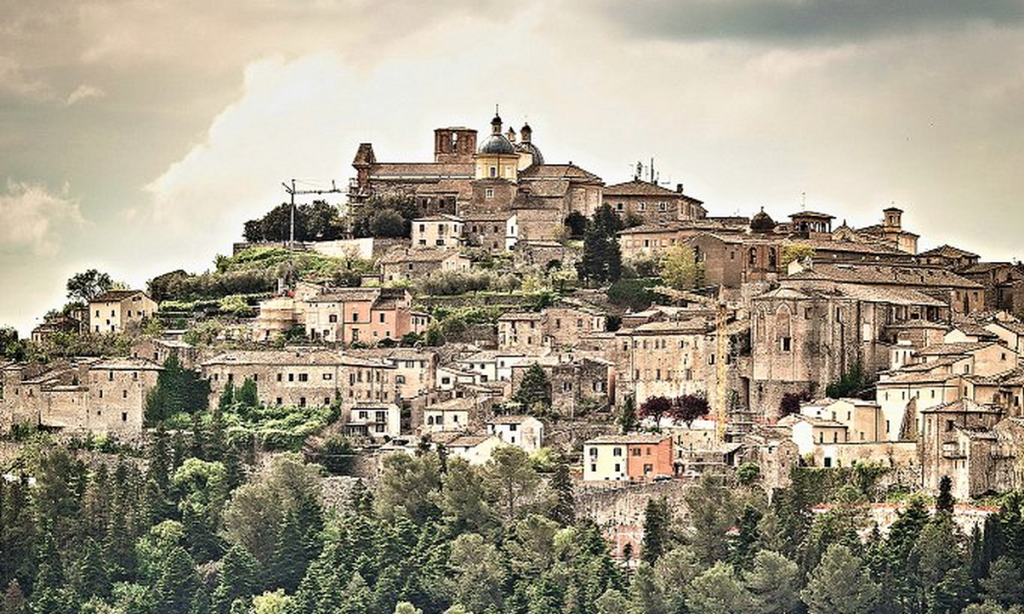 The Association for Research into Crimes against Art (ARCA) is pleased to announce the conference lineup for it's 8th annual interdisciplinary Art Crime conference in Amelia, Italy the weekend of June 24-26, 2016.
ARCA's annual Amelia Conference serves as an arena for intellectual and professional exchange and highlights the nonprofit's mission to facilitate a critical appraisal of the protection of art and heritage worldwide. Over the course of two days, ARCA's summer conference will serve as a forum to explore the indispensable role of detection, crime prevention and criminal justice responses, at both the international and domestic level, in combating all forms of art crime and the illicit trafficking in cultural property.
Geared towards international organizations, national enforcement agencies, academics, cultural institutions, and private sector professionals in the art and antiquities fields – the Amelia Conference follows a long-established commitment by the Association to examine contemporary issues of common concern in the important field of art crime. In doing so we hope to further awareness and understanding of the need for better protection of the world's cultural patrimony.
Opening Address:
Right to Culture. Value Education for Culture, Peace and Human Development
Alesia Koush, Referent, Heritage Community Life Beyond Tourism®
Collaborator, CAMNES Center for Ancient Mediterranean and Near Eastern Studies
Florence, Italy
Morning Sessions – Saturday 25 June 2016
Obstacles to Interdiction in Civil, National and International Law: Harnessing the Law to Protect Cultural Objects
Panel Chair:
The Issue of Impunity in Transnational Art Crime Cases – Why Are Buyers of Looted Artifacts Rarely Prosecuted?
Saskia Hufnagel, Lecturer in Criminal Law
Co-Director of the Criminal Justice Centre (CJC) at Queen Mary University of London
Implementation of the New EU Legal Framework on the Return of Unlawfully Removed Cultural Objects
Pierfrancesco C. Fasano, Attorney-at-Law
FASANO – Avvocati
and
Ivett Paulovics, Attorney-at-Law
FASANO – Avvocati
Pricing Provenance of Ancient Artifacts in the Aftermath of Court Convictions
Silvia Beltrametti – University of Chicago Law School                                                                                                                                                                       
European and Antipodean Perspectives on Art and Heritage Crime and the Trafficking of Culture in the Former Yugoslavia and in Australia
Panel Chair:
Prosecuting Crimes Against Cultural Property: The Work of the International Criminal Tribunal for the Former Yugoslavia (ICTY)
Helen Walasek, Author of Bosnia and the Destruction of Cultural Heritage
Formerly of the Bosnian Institute, London, and Bosnia-Herzegovina Heritage Rescue (BHHR)
Illicit Antiquities Trafficking in the Balkans: A Content Analysis
Elena Sciandra, MSc in Criminal Justice Policy
PhD Student in International Studies, School of International Studies, University of Trento, Trento, Italy
Contemporary Developments in the Antipodean Art World
Duncan Chappell,
Faculty of Law, University of Sydney
and
Kenneth Polk, Professor of Criminology
University of Melbourne
Afternoon Sessions – Saturday 25 June 2016
From Mesopotamia to South Arabia via the Levant: The Impact of Archaeology and Politics on Endangered Antiquity in the Midst of a Perfect Storm
Panel Chair: Samer ABDEL GHAFOUR, Founder, ArchaeologyIN – The Archaeology Information Network
The Political Use of Archaeology for Territorial Control in the Occupied Palestinian Territories
Carla Benelli, Cultural Heritage Project Manager
Associazione pro Terra Sancta (Custody of the Holy Land) – Jaffa gate – Jerusalem
and
Osama Hamdan
Director of Palestinian NGO Mosaic Centre,
Lecturer, Higher Institute of Islamic Archaeology, Al-Quds University (Palestine)
The Case of Yemen: The projects of the University of Pisa in the Yemeni Museums and the Digital archive "DASI" As an Instrument for Study and Preservation of Archaeological Heritage
Costanza Odierna, Research Fellow
University of Pisa
Before the Flood: Systemic Prevention of Damage and Looting at Archaeological Sites – Principles
Giorgio Buccellati, Professor Emeritus
Department of Near Eastern Languages and Cultures, Department of History at University of California, Los Angeles
Founding Director, IIMAS – The International Institute for Mesopotamian Area Studies
Tell Mozan: A Case Study
Marilyn Kelly-Buccellati
Director of Excavations of the ancient city of Urkesh
University of California, Los Angeles, Cotsen Institute of Archaeology, Faculty Member
Characterizing and Anticipating the Trafficking of Culture In and From Zones of Conflict
Panel Chair: Lynda Albertson, ARCA CEO
The Importance of Being Diligent
Samuel Andrew Hardy. Adjunct Professor, Graduate Program in Sustainable Preservation
American University of Rome
The (Il)Legal Antiquities Trade, Its Dependency on World Conflict and Instability, and a Systematic Approach for Change
Andrew Scott DeJesse,
Director, The Collective Heritage Lab
Lieutenant Colonel, Cultural Affairs Officer, U.S. Army
Museum and Collector Liability Under the Anti-Terrorism Act: Challenges and Risks
Britta M. Redwood, Juris Doctor Candidate
Yale University
Morning Sessions – Sunday 26 June 2016
O Brother, Where Art Thou? Art Crimes in Italy
Panel Chair: Susan Douglas, Assistant Professor at the University of Guelph
A Little Blue Curl and Hades' Return to Morgantina, Sicilia
Serena Raffiotta
Archaeologist
In the Eye of the Beholder: Bad Karma
Virginia Curry, Doctoral Candidate, University of Texas at Dallas
FBI Special Agent (Ret)
When Negotiation Leads to Repatriation: The Art of Gentle Persuasion
Stefano Alessandrini, Archaeologist
Consultant, L'Avvocatura dello Stato, Italia
Fakes, Forgeries, and……Rhino Horns
Panel Chair:
Fakes and Forgeries as Witnessed by the Art Loss Register
James Ratcliffe, General Counsel & Director of Recoveries
The Art Loss Register
Hovering in a Gray Zone of Regulation: Rhino Horn Artworks
Dr. Annette Hübschle-Finch
Senior Research Advisor
Global Initiative against Transnational Organised Crime
Fine Art Forensics MOOC: The Dissemination of Knowledge in Curbing the Proliferation of Fakes and Forgeries in the Art Industry
Allen Olson-Urtecho, PhD Student at IDSVA
Adjuster, Investigator, and Principal at Fine Arts Adjusters LLC
Afternoon Sessions – Sunday 26 June 2016
The Thin Blue Line: Art Crimes From the Perspectives of Public Sector Law Enforcement and Private Investigators
Panel Chair:
The Panama Papers and its Impact on Future Regulation Targeting the Art Market
Jordan Arnold, Esq.
K2 Intelligence
Findings from the 3rd Meeting of the EU CULTNET, the Informal Network of the Law Enforcement Authorities and Experts Competent in the Field of Cultural Goods, Held 25 May 2016 in The Hague
Fons van Gessel, Senior Strategic Policy Advisor,
Ministry of Security and Justice, The Netherlands
and
Martin Finkelnberg, Head of the Art and Antiques Crime Unit
The National Police of the Netherlands, National Criminal Intelligence Division
Europol and European Involvement in the Fight Against Cultural Goods Trafficking
Michael Will, Manager
EUROPOL, Organised Crime Networks Group – Focal Point Furtum
Activities and Tools of INTERPOL's Works of Art Unit in the Fight Against Illicit Trafficking in Cultural Property
Gonzalo Giordano
INTERPOL General Secretariat
Sub-Directorate, Drugs and Organized Crime – Works of Art Unit
Dealing with Un-Natural Disasters, Art's Biggest Adversary – Cultural Heritage Risk Management Approaches to Balancing Collection Accessibility with the Protection of Collections
Panel Chair:
Responsibility of Museums in Fighting Illicit Art Trafficking. Cooperation Between Museum Professionals and Law Enforcement Agencies
Judit Kata Virág,
Registrar at Museum of Fine Arts, Budapest
The Evolutionary Step Forward in Proactive Security – Security Intelligence, Smart Techniques, and New Construction Challenges
Dick Drent, Associate Director
Holland Integrity Group
SoSecure
and
Toby Bull, MSc.,
Founder, TrackArt – Art Risk Consultancy
and
Ibrahim Bulut
Business Development Manager
Meyvaert Glass Engineering

Held in the beautiful town of Amelia (Umbria), the seat of ARCA's Postgraduate Certificate Program in Art Crime and Cultural Heritage Protection, the annual conference will consist of presentations Saturday, June 25 and Sunday, June 26, 2016 inside the Boccarini college adjacent to the Museo Civico Archeologico e Pinacoteca "Edilberto Rosa" in Amelia, Italy. Sessions will begin promptly at 9:00 am each day and include ample time for networking.
Social events included in the weekend include the following opt-in events:
✾ Ice-breaker cocktail reception at the Palazzo Farrattini on Friday, June 24th
✾ Picnic lunch in the 14th century cloister of San Francesco on Saturday, June 25th
✾ Italian "Slow Food" dinner on Saturday, June 25th
✾ Picnic lunch in the 14th century cloister of San Francesco on Sunday, June 26th
Each day's sessions will also include a complimentary morning and afternoon refreshment break with coffee and light pastries.
The 2016 conference is open to attendees from different disciplines, practitioners, and policy- and decision-makers as well as anyone with an interest in the protection of art and the complexity of art crimes. Registration for the event will remain open until June 23, 2016.
Registration Fees:
$120 for both day's sessions for professionals
$75 for both day's sessions for university students providing proof of enrollment in an academic program.
Fees for optional transfers and networking events are payable on site at the venue's registration check-in.
For register for this year's conference please go to the Eventbrite registration page here.
For further information about this 2016 conference please contact the conference organisers at:
italy.conference (at) artcrimeresearch.org