The 16th-century painting by Lucas Cranach the Elder titled Sybille of Cleves was stolen by Stéphane Breitwieser in March 1995.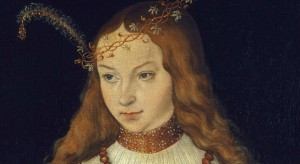 Just one of the 239 paintings and museum works the 33-year-old ex-waiter admits he stole, the painting was valued at between £4.2 million and £4.7 million.
Prosecutors say that Breitwieser's mother, upon learning of her son's arrest, rushed into his bedroom and chopped up the paintings.  To hide her son's crimes, she allegedly forced treasures, including this painting, down the waste disposal. It is further alleged that she threw other works of art into the Rhine-Rhone canal near the Swiss border.